Lifetime Success
Academic Excellence is a common theme to run across all King's College schools.  Our pupils leave school upon completing their studies in Year 13 to go on to join the world's best universities, including the UK's Russell Group, Oxford and Cambridge and America's Ivy League, as well as many other top institutions across the globe.
Our reputation is built upon the success of our pupils. We are educational experts; we know how to get the very best out of your children. Becoming a young adult at the same time as working hard to learn, these years are hugely important to your child. We challenge and support pupils, so that they are able to achieve their very best academically and personally. We have the expertise to get them through the exams and the experience to guide them towards the ideal university for their future.
2022 IGCSE Results
Congratulations to our (I)GCSE students for their amazing results!  
These results are contrary to the national and international trend for (I)GCSEs this summer. It is worth mentioning the results of the following notable students:  
Three pupils achieved straight grade 9s: Blanca Bergasa Martínez (who also holds a Sir Roger Fry Scholarship), Samuel Salesas, Laura Carbajo Cañades  
Two pupils achieved eight grade 9s: Inés Abril-Martorell Avila, Ximena Gómez Montiel 
And for some numbers:  
36% of Y11 students achieved a 7 or above in every subject 
100% achieved a 7 and above in History, Physics, Portuguese & Spanish 
95% achieved a 7 and above in Biology and Chemistry
Image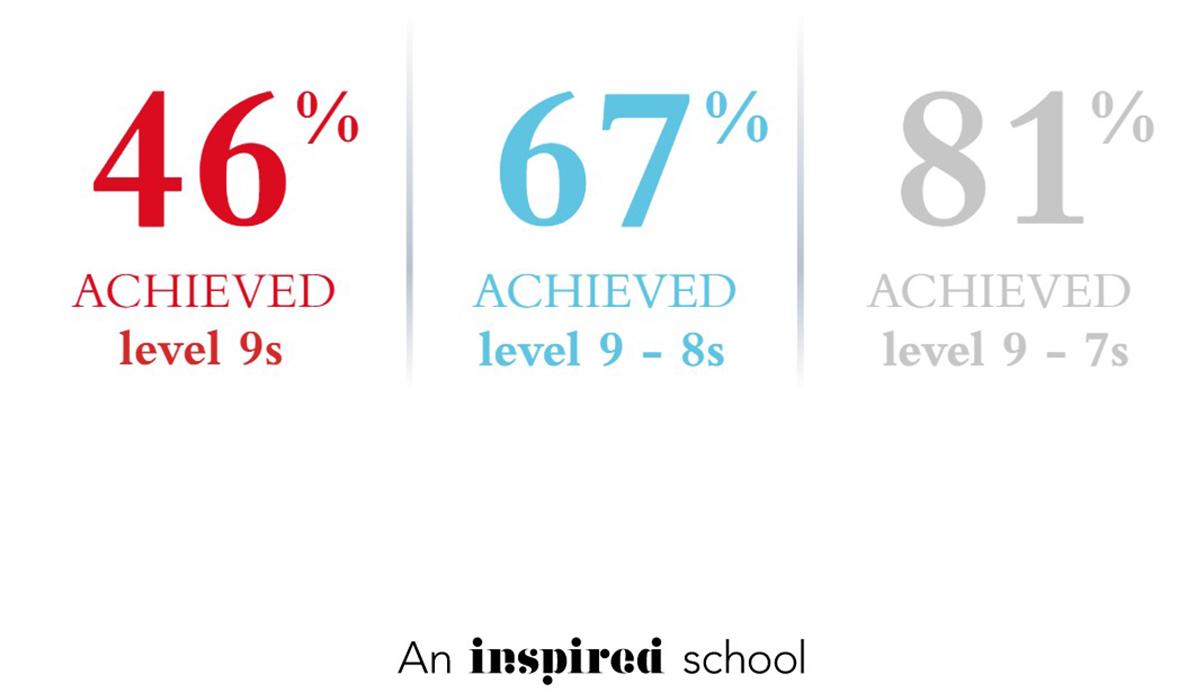 Head Teacher June Donnan explained that 'alongside being 'Excellent' in all areas in our British Schools Overseas Inspection Report and defined as a 'World Class' by the High Performance Learning Programme, these results firmly place us as one of the leading international schools.'
Nadim Nsouli, Inspired Education Founder, Chairman and CEO, adds "we are delighted with such a strong set of iGCSE results that reflect the hard work and resilience of our students in the toughest of years; they have risen to the challenge set by our excellent teachers at King's College La Moraleja."
Nick Wergan, Inspired's Global Education Director, adds "such great success in this second set of exam results underlines the excellence of this school, the depth of character and superb work ethic of its students, and the exceptional subject knowledge and skill of the teaching team. Students and teachers alike have had to innovate and adapt in this exceptional year and these excellent results reflect this determination and grit. Students and teachers at King's College La Moraleja are truly world class!"
Deputy Head Teacher, Jeremy Newton took time to thank 'our incredible Year 11 cohort for the hard work and dedication during their two year course. These results are the product of their excellence. I would also like to thank our outstanding teachers for their commitment to securing academic excellence for the students in their care. They have remained steadfast in their determination throughout a very challenging academic year and deserve all possible plaudits.'
Our students of King's College La Moraleja achieved another set of IGCSE World Class results in 2020–2021.

Manuel G, Student
Manuel achieved 7 IGCSEs at Grade 9 this year. He has been awarded the Sir Roger Fry Scholarship Award for entry into Soto in September. Manuel will be studying A Levels in Economics, Business Studies, Mathematics and Further Mathematics in September.
Form teacher quote – Manuel has made an outstanding contribution to school life with his running of the School Council over the past two years. His single minded attitude has produced excellent results including a Grade 9 in further Mathematics which Manuel completed as an extra GCSE in his own time. Congratulations. 
"Year 11 was a challenging year where the support of the staff encouraged me to give my best. I am looking forward to Soto next year where I hope I can fulfill my dream of getting into a top university".

Mencia L, Student
Mencia achieved 7 IGCSEs at Grade 9 this year. She will be attending King's College Soto studying Art and Design, Media and Business Studies at A level.
Form teacher quote – Mencia has demonstrated exceptional dedication to her studies this year. Despite the difficulties of this year she continued to strive and challenge herself in all subjects. Due to her hard work she has produced some excellent results and we look forward to hearing her future achievements.
"I have really enjoyed being at La Moraleja. The staff have been really supportive, and although this year has been difficult I feel prepared to go to Soto next year".
Top universities increasingly look at the whole person, not just exam results. We know how to inspire and develop the passions and interests of children outside the curriculum. We have a team of expert teachers who keep up to date with the different requirements of universities around the world. So we know what universities as far away as New York, Australia and Abu Dhabi demand from pupils, as well as universities in the UK.
Do you want to change to 99% of entries secured a strong pass? 
Click Here to view the latest Sixth Form Examination Results from King's College, Madrid our sister school.